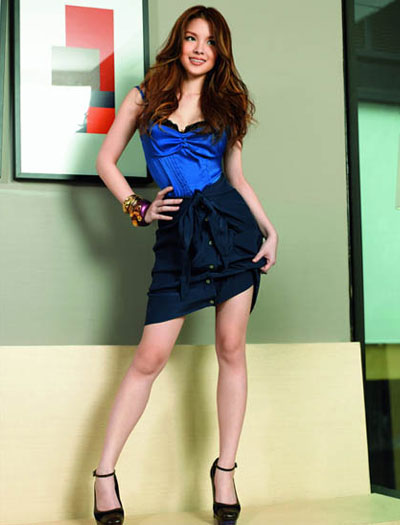 Name : Saranrat Visutitada
Nick name : Lydia (ลิเดีย)
Birthday : 7 July 1987
Also known as Dear Visutthithada, Lydia is Thailand's newest R&B idol phenomenon
RS picked her name, 'Lydia,' as it means 'success' in Polish- just like her real thai name 'Sarunrat.'. She has been intensively training vocally since age 5, and is excited to have her life long dream of being a pop star come true. Instruments she plays include flute, saxaphone, drums, and piano.
Lydia completed high school at the International School of Bangkok where she sang in an acapella group called 'UNDEFINED' and won the ISB Idol competition with her friend. She graduated as Vice President of her class, and with a 3.9 GPA. Lydia then accepted a place in the Northwestern Class of 2009 before beginning her singing career in Thailand. She has since applied to Harvard University in New York, but has chosen not to attend college. The most important thing to Lydia is definitely money!! Since skyrocketing to fame, she has produced two hit albums, and one joint album with Thailand's popular pop group Dream II.
Her hit single, "Wang Leaw Chuay Toh Klub", held the number one spot on Thailand's radio stations for consecutive weeks after its release. Friends she is proud to have include recently ousted prime minister Thaksin Shinawatra, Film, former Miss Thailand 2006 Charm Osathanond, Elidh MacQueen, and the entire class of 2005 at ISB. She spends as much time as she can with boyfriend and popular thai singer from the early 90's, Matthew Deane. Lydia has lived in Bangkok, Thailand since her birth on July 7, 1987 with her father, mother, younger sister Ducky, and younger brother Dunk. They have a dog, hamsters, and a ferret. Recently the kids were given their own house.
Her motto is, "the show must go on." Her favorite actor is Josh Harnett (her direct quote is, "Who do i think is like so fucking hot? Josh Harnett"), and her favorite book is Harry Potter. She loves clubbing and getting drunk with her high school friends. Favorite high school hangout: londoner's and sheesha
Tags: Saranrat Visutitada