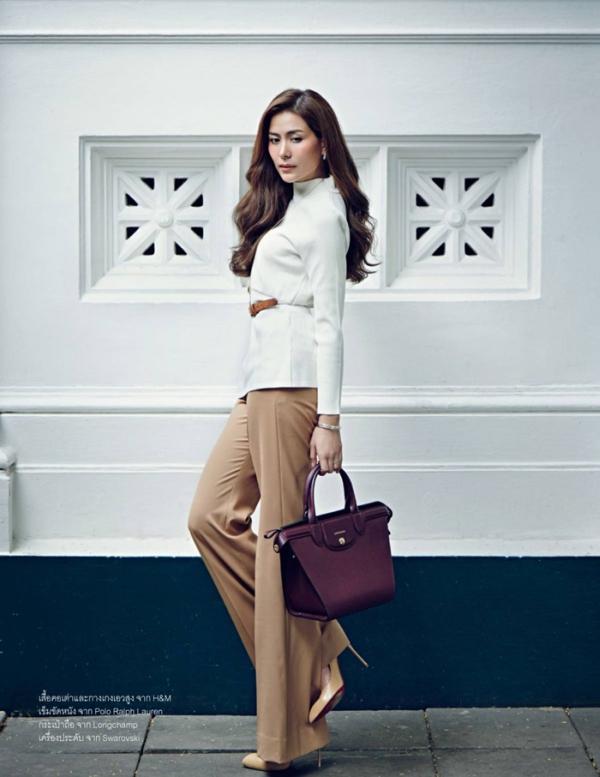 Once a shy, unconfident girl who never dreamt of becoming famous, Khemapsorn Sirisukha (Cherry) has stepped graciously into the limelight. She is known for her nang-ek roles in many hit TV series like Dao Lhong Fah and Kaew Ta Pee. Back in 2000, the TV star first appeared on the big screen with Satang, and won a best supporting actress award. After a nine-year hiatus, Cherry is back with a big-budget, star-studded fantasy action flick, Opapatika, scheduled to hit theaters in October.
Acting wasn't my childhood dream. When I was young, I was quiet, shy and introverted. I didn't like being the center of attention. I loved painting and drawing, and I wanted to be an architect. But by coincidence, I got into the entertainment business, and before I knew it, I starred in my first TV drama when I was only 17.
What you see is not necessarily what you get. People always assume actors and actresses are the characters they play. But work is work, and that's all. Personally, you might get uncomfortable in public or in front of the camera, but when it's work, you've got to get it done.
My first works were quite a disaster. My spirits were low, especially during filming Jub Tai Wai Rai Sai Samorn. It was my third lakorn and there were lots of action scenes. I was scolded a lot because I couldn't deliver what the director wanted. It was very difficult for me.
Acting helps me break out of my shell. I used to be a shy kid, who hardly made eye contact and easily got nervous. But now, I've learned to control my anxiety and to express myself better.
Showbiz has changed me in a good way. Before, whenever I felt annoyed, upset or distressed, you could see it on my face. Now I've learned to keep my emotions in check. Plus, I've learned to work as a team and to be more responsible.
Opapatika is my second movie. It's an action fantasy, in which I got to work with seven other magnet stars and a young director. It's a real challenge because my character, Pran, is somber and enigmatic, so you can't really tell whether she is good or evil. Also the plot contains complicated dialogue as it's inspired from Buddhist concepts. We filmed from dusk till dawn, so I rarely got to sleep.
I'm proud of everything I've done. I never thought I would or could be an actress. I have a drive to improve myself so that I won't get chewed out by directors for acting like a dead fish anymore.
Cloud 9 was born out of my love for fashion. It's my fashion brand that now has two outlets at Playground! and Gaysorn. I think it goes hand in hand with my acting career. I can stay current with styles and trends thanks to the stylists I work with on the set. And they help bring Cloud 9's clothes for the cast and models to wear. That's good advertisement.
I'm not a fashionista. I dress according to my mood, time and occasion.
I love acting. It may sound unbelievable coming from a once inarguably stiff actress like me. But I've grown to enjoy playing a range of characters in very different roles.
Appearance is essential to my career. My face and body are my assets, so I have to keep them healthy.
I want to have a life. That's why I won't take too many jobs—I want to have a balance between my family, friends and work. I also want to have time for myself, so that I can get enough sleep, exercise and enjoy a massage.
The future is unpredictable, so live the present moment to the fullest. I can't tell how long I'll be in the entertainment business. That's not up to me; but it's up to the producers and directors.
Profile
Name: Khemapsorn Sirisukha (เข็มอัปสร สิริสุขะ)
Nickname: Cherry (เชอรี่)
Profession: Model, Actress, Singer (Minor), Business Owner
Date of birth: August 28, 1980
Height: 171 cm or 5'7″
Star sign: Virgo
Marital Status: In a relationship with Khun Sermsin Samalapha
Tags: Actress, Business Owner, Cherry, Khemapsorn Sirisukha (เข็มอัปสร สิริสุขะ), Model, Singer (Minor)